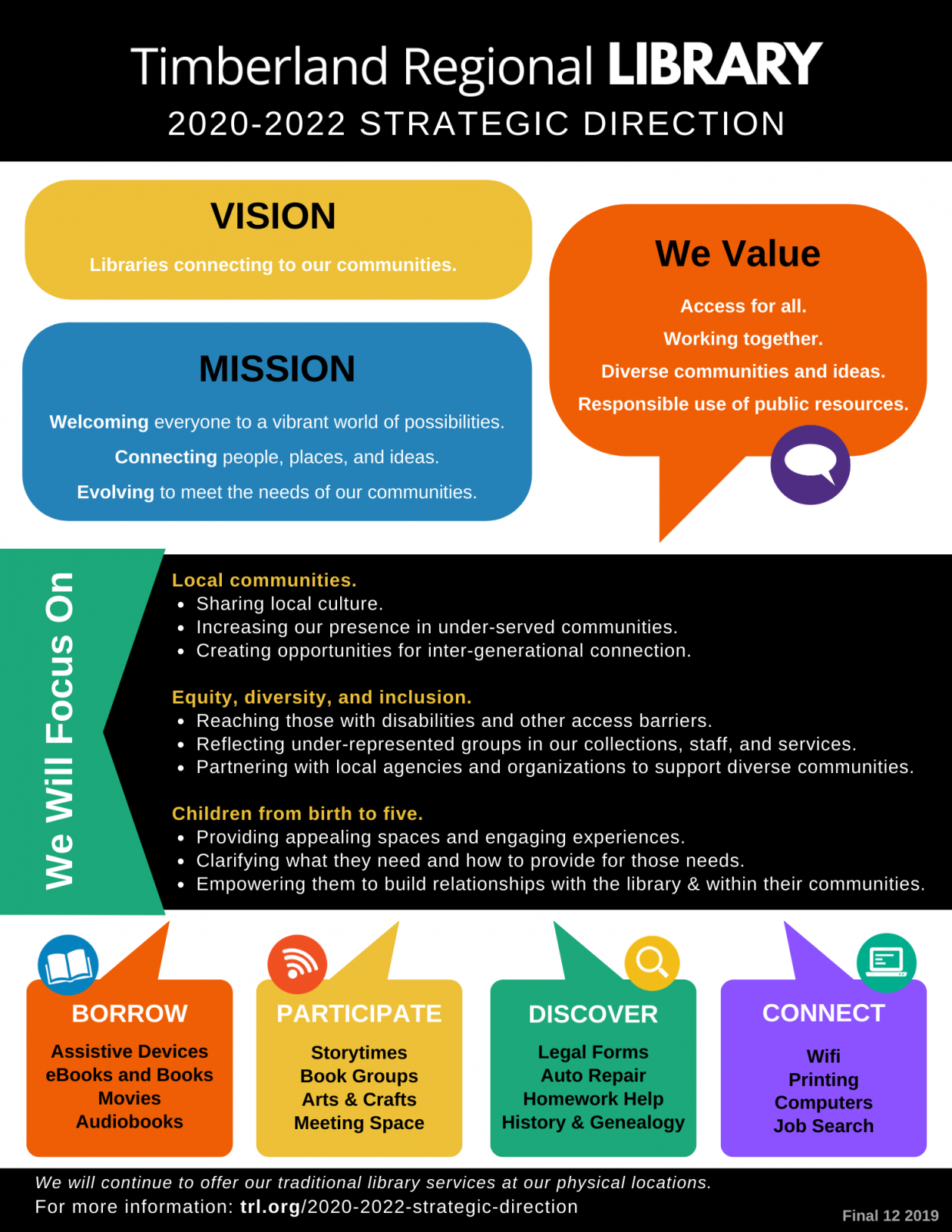 The Timberland Regional Library Strategic Direction for 2020-2022 was developed through community and staff participation with our Board of Trustees strategic planning committee.
We appreciate the time and effort that was given to understand the needs within the community, identify areas of focus that we assist with, and then align our resources to create positive change in those areas. Together we can help to shape a better Timberland Regional Library!
Who Worked on This Project?
The Board of Trustees strategic planning committee is responsible for the defining vision, mission, values, and focus areas by reviewing staff and community feedback received from activities completed during the 2019 Community Engagement Initiative. The committee is also responsible for overseeing the structure of the plan and defining measures of success. The committee consists of 3 Board of Trustees members, 3 Administrative Team members, and 12 rotating frontline staff members.
How Was Information Obtained?
ASK Questionnaires (in-person & online)
Our questionnaires were asked both in-person and via an online option. These interviews were the first step in engaging with our community members, partners, organizations, and stakeholders.
Community Conversations
At these conversations attendees were led through a series of questions that helped the participants dig into what kind of community they would like to live in, the problems they see in their community, and how they think things could be changed to make improvements. 13 of these conversations were held across the five county district.
Community Check-ins (in-person & online)
This more focused event used a smaller pool of representatives from the larger community conversations to clarify and focus the information that has been received from the communities within the district. Facilitators presented the themes that had been gleaned from the data gathered from conversations and interviews and asked for confirmation that these are the issues of concern and the needs expressed within the district as a whole.
Timeline:
December 2019: Final 2020-2022 Strategic Direction 
October 23rd, 2019: The Timberland Regional Library Board of Trustees has approved the 2020-2022 Strategic Direction!
October 23rd, 2019: Presentation of the Final Draft to the Board of Trustees
October 3rd, 2019: Strategic Planning Committee Meeting #3
August – September 2019: Community Check-ins II
August 16th, 2019: Strategic Planning Committee Meeting #2

July 2019: Community Check-ins I
June 21st, 2019: Strategic Planning Committee Meeting #1

April – May 2019: Community Conversations
September-December 2018: ASK Questionnaire (online & in-person)