We are honored to present the first Native American Heritage Month Timberland Regional Library card!
Ovila Mailhot, I am Coast Salish (Sto:lo and Nlaka'pamux Nations) graphic artist and designer originally from Seabird Island Reserve in British Columbia. I have lived in the Fraser Valley (Coast Salish Territory) all my life, until recently moving to the Midwest, and come from a long line of creatives who have shaped Indigenous art, literature, scholarship, activism, and representation.
My family's legacy in these fields have demanded not only a reckoning with stereotypes of Indigenous peoples but have also built a foundation for visual and literary activism and representations of Indigenous people. I am the first in my family to take up graphic art and design, but my work still carries a stylistically Salish level of simplicity: it must not obscure itself – that is the tradition I have inherited. My art is meant to add to a continuum within Coast Salish culture, one so rich and expansive that it still hasn't been fully actualized within or received by mainstream culture.
Artist Gallery (WEB)
Available at all locations while supplies last.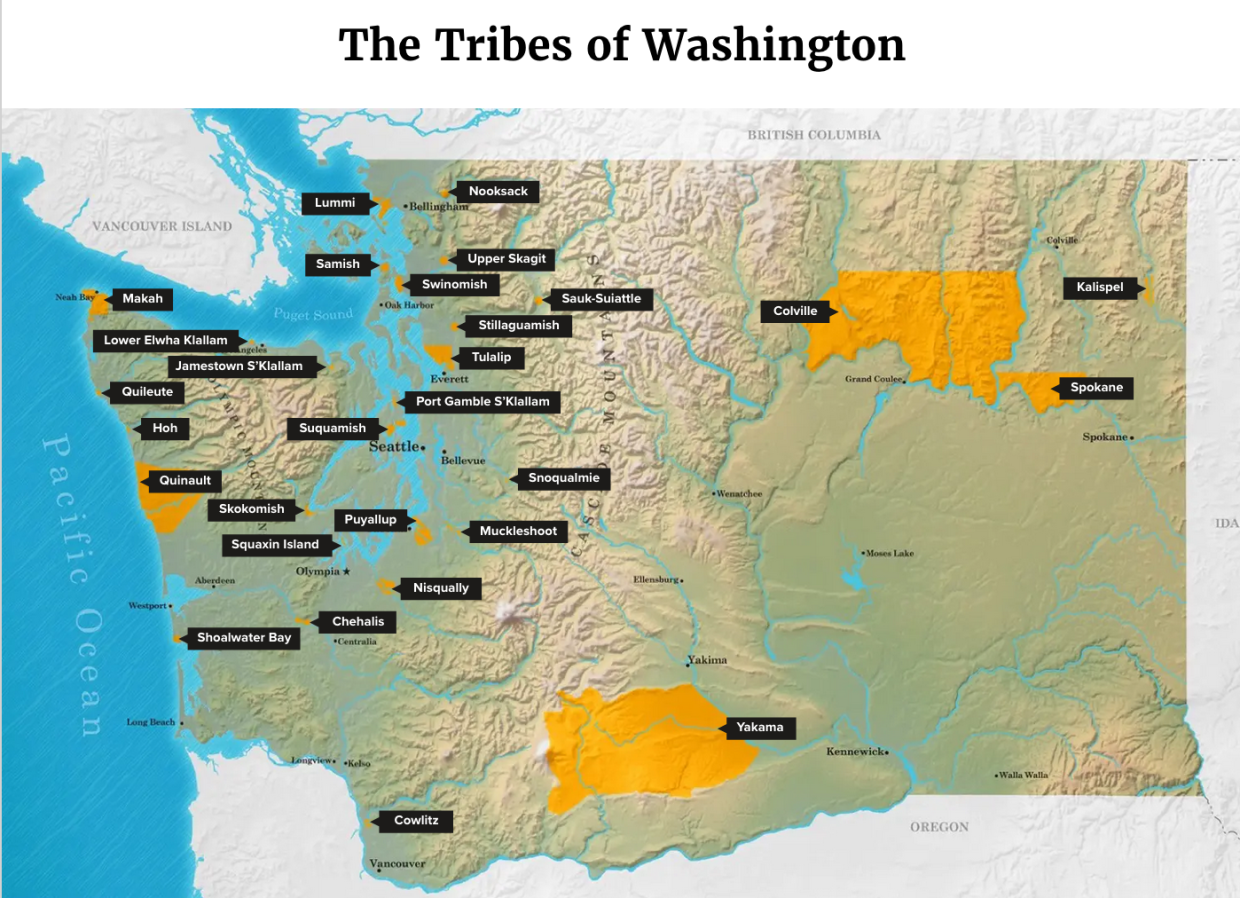 Land Acknowledgment
Timberland Regional Library recognizes that we operate within the traditional territories of the Coast Salish people and Chinook people, who have been stewards of these lands since immemorial.
TRL provides library services to Indian tribes, extending beyond the geographic limits of Lewis, Mason, Thurston, Pacific, and Grays Harbor Counties. This acknowledgment reminds us to strive for respectful partnerships with all people as we search for collective healing and learn how to be better stewards of the indigenous lands we inhabit.
Coast Salish People
Visit Burke Museum Website
Chinook Tribe  (Website)
Bay Center, WA
Washington State Governor's Office of Indian Affairs
Native Land Map
Washington Tribes (Website |  PDF)
TRL is thrilled to honor and celebrate the histories, diverse and thriving cultures, and innumerable accomplishments of Native people. These staff-selected resources highlight the voices and perspectives of Native people; check them out! #nativeamericanheritagemonth (Instagram)
"What started at the turn of the century as an effort to gain a day of recognition for the significant contributions the first Americans made to the establishment and growth of the U.S. has resulted in a whole month being designated for that purpose.
---
One of the very proponents of American Indian Day was Dr. Arthur C. Parker, a Seneca Indian, who was the director of the Museum of Arts and Science in Rochester, N.Y. He persuaded the Boy Scouts of America to set aside a day for the "First Americans," and for three years, they adopted such a day. In 1915, the annual Congress of the American Indian Association meeting in Lawrence, Kans., formally approved a plan concerning American Indian Day. It directed its president, Rev. Sherman Coolidge, an Arapahoe, to call upon the country to observe such a day. Coolidge proclaimed on Sept. 28, 1915, which declared the second Saturday of each May as an American Indian Day and contained the first formal appeal to recognize Indians as citizens.
---
The year before this proclamation was issued, Red Fox James, a Blackfoot Indian, rode horseback from state to state, seeking approval for a day to honor Indians. On December 14, 1915, he presented the endorsements of 24 state governments at the White House. There is no record, however, of such a national day being proclaimed.
---
The first American Indian Day in a state was declared on the second Saturday in May 1916 by the governor of New York. Several states celebrate the fourth Friday in September. In Illinois, for example, legislators enacted such a day in 1919. Presently, several states have designated Columbus Day as Native American Day, but it continues to be a day we observe without any recognition as a national legal holiday.
---
In 1990 President George H. W. Bush approved a joint resolution designating November 1990 "National American Indian Heritage Month." Similar proclamations, under variants on the name (including "Native American Heritage Month" and "National American Indian and Alaska Native Heritage Month") have been issued each year since 1994." - Source https://nativeamericanheritagemonth.gov/about/
 
Resources
November is a time to celebrate rich and diverse cultures, traditions, and histories, and to acknowledge the significant contributions of Native people. Native American Heritage Month is also an opportune time to learn about tribes, to raise awareness about the unique challenges Native people have faced both Historically and, in the present; and how tribal citizens have worked to conquer these challenges.
NCAI participates in the DC Native Public Relations Roundtable, a group consisting of public relations professionals from National American Indian and Alaska Native organizations and agencies in the Washington, DC area. The group meets monthly to improve communication between groups and its primary function has been to create a more cohesive campaign for Native Heritage Month and to unify the month's schedule of events." - Source www.ncai.org/initiatives/native-american-heritage-month
Quick Links
Additional online resources are available under the "Learn" menu.
 
Kanopy
​On-demand streaming platform with over 30,000 indie and classic films. Users are allowed 8 plays per month. *Please note, per Kanopy's Terms of Service, users must be 18 years old or over OR have the involvement of their parent or legal guardian to use Kanopy. Set up a personalized PIN to keep your kids inside Kanopy Kids.
Most films on Kanopy include public performance rights (PPR) at no additional cost. You can screen films that have PPR in any group programming that doesn't charge admission. These rights extend to the film title and any images from our website you want to use to advertise the screening as long as source credit is given to Kanopy.
Children of the Arctic: A Powerful Portrait of 5 Alaskan Teenagers: "A year-in-the-life portrait of Native Alaskan teenagers coming of age in Barrow, Alaska - the northern-most community of the United States. "
Ishi's Return: "The Last Wild Indian": "A short documentary about Ishi, billed in 1911 as the "last wild Indian" when he wandered out of the woods in Oroville, CA, and became a national sensation. When Ishi died, his brain was removed and sent to the Smithsonian Institution in Washington, DC. Eighty years later, his descendants in California fight to have his remains repatriated to his ancestral home."
TE ATA (TAY' AH-TAH): "based on the inspiring true story of Mary Thompson Fisher, a woman who traversed cultural barriers to become one of the greatest Native American performers of..."
PressReader
Get access to over 7,000 of the world's top newspapers and magazines. Find content from over 120 countries in 60 different languages. Read online or download. Save publications to read later, listen to content out loud, and instantly translate up to 19 different languages. Newspapers include up to 3 months of back coverage. (PressReader Help) (Press Reader Tutorial)
Native American Art Magazine
Washington Rural Heritage Project
Community memory project headquartered at the Washington State Library. The project combines unique local history materials from libraries, museums, and private collections of citizens across Washington State.

 

HeritageQuest Online
Genealogy books and serials, and Federal Census data. This database contains an index of the Indian census rolls from 1885-1940.

 

Northwest Digital Heritage
Collaboration between the Washington State Library, State Library of Oregon, and Oregon Heritage Commission serves libraries and cultural heritage institutions across the Pacific Northwest region.
History of Survivance: Upper Midwest 19th-Century Native American Narratives. The following is an exhibit of resources found within the Digital Public Library of America retold through the lens of Native American survivance. Ancient Legacies, Colonization, Colonial Narratives, Conflict, Reservation Era, Survivance.
State
National
TRL is committed to the values of Equity, Diversity, and Inclusion. TRL Celebrations: Recognizes significant events throughout the year. Promote a culture of inclusion, representation, and belonging that reflects communities we serve. Promotes connection of the richness and diversity throughout our counties and the world at large.