If you don't have a Library Card yet, you can get an online card to access most virtual resources.
Normally these cards are only valid for 14 days. 
This has been extended to

3 months

. 
When you submit this Online Card registration a temporary card number will display.
Print the page or write down the temporary card number and the PIN you selected so you can login again later.
With a large increase in requests, the application can take a little time to load. We appreciate your patience! 
Should you encounter problems, please let us know on asklib@trl.org and we will get back to you as soon as we can. 
Use your Timberland library card to:
Checkout books, magazines, DVDs & CDs
Download ebooks, audiobooks, videos, and music
Check the online catalog in the library, from home, office, or school, or by telephone to see what items you have checked out, overdue, or on hold and place holds on items
Use a library computer with Internet access and Microsoft Word, Excel, PowerPoint, and Publisher
In the library or from home, access hundreds of online newspapers and magazines and dozens of online classes and other resources on health, business, computers, genealogy, car repair, hobbies, and many more topics
Timberland library cards are free to:
Applicants of any age, with provision of current physical address and proof of identity, who meet any of the following criteria:
Anyone living or owning property in TRL's 5-county Service Area: Grays Harbor, Lewis, Mason, Pacific, and Thurston counties (except residents of these cities: Mossyrock, Napavine, Ocean Shores, Pe Ell, and Vader.)
Non-resident individuals who work in or attend school in the TRL Service Area
Institutions, businesses, and qualifying homeschools in the TRL Service Area
Washington State legislators and legislative staff
Residents of library districts that have reciprocal borrowing agreements with TRL (see details below)
Residents of other areas outside of the TRL Service area within Washington that have tax-supported public library service
How to get a library card:
Apply online for a library card, works for 8 weeks and allows access to digital resources.
Visit any TRL library to apply for a card in person
Print a library card application, fill it out and take it to the library
If your ID does not show your current address, provide a piece of mail, a checkbook, a rental agreement, or ask staff for assistance
Minors under 18: If unable to provide identity and address verification, minors may receive a card with a parent's or guardian's signature, who can provide verification on their child's behalf
For more information, see the Library Card Eligibility Policy
Non-Residents may buy a library card:
In 2020, the price is $64 per year, with the option of a six-month card at $32, a three-month card at $16, or a one-month card at $6.
The non-resident fee is for the entire household, each household member receives their own library card.
Residents of Washington State and Clatsop County in Oregon, not in the TRL Service Area and not covered by a reciprocal agreement or cooperative service area, may purchase a Non-Resident card.
The cost of the card is determined by the average cost each household in the Timberland district pays in property taxes for library services and is re-calculated annually.
Visit your nearest Timberland Regional Library to apply.
Library Card options:
| | | | | | | |
| --- | --- | --- | --- | --- | --- | --- |
|   | Proof of address required | Checkouts / Holds | Loan period | Checkout renewals | Database & rbDigital & Kanopy | OverDrive |
| Regular | Y | 50/25 | 21 | 2 | Y | Y |
| Basic | N | 5/5 | 21 | 2 | Y | Y |
| Reciprocal | Y | 50/25 | 21 | 2 | Y | Y |
| Non-resident | Y | 50/25 | 21 | 2 | Y | Y |
| Internet | N | 0/0 | - | - | Y | Y |
| | N | 0/2 | - | - | Y | Y |
| Mail | Y + complete application form | 50/25 | 35 | 1 | Y | Y |
| Institution | Y + administrator approval | 50/25 | 35 | 1 | N | N |
| Business | Y + administrator approval | 50/25 | 35 | 1 | N | N |
| Homeschool | Y + personal library card + current letter of intent to homeschool | 50/25 | 35 | 1 | N | N |
Library Account Privacy
What does the library do to protect my library card account?
TRL protects the privacy of your account, keeping all records confidential. We only release information to the person to whom the card is issued, unless you instruct us otherwise (See the Library Card Permissions Form). That includes all information in your account, e.g., address and contact information, items borrowed or requested, and computer use information.
You may opt to share information with others, granting others specific permissions or linking your account to others. Parents should work with their minor children to determine what methods will work best to help children manage their accounts and selection of materials. Check with your local library staff for details.
Reciprocal Borrowing Agreements:
Reciprocal borrowing agreements between library systems allow residents of one library district to use the services of another library district. Library users may apply for and have library cards in the other library system.
In general, you must show proof of residence in your "home" library district to get a card in the "other" library district.  The agreements with Seattle Public Library and Longview Public Library require that you show a valid library card in your "home" library in order to apply for a card in the "other" system.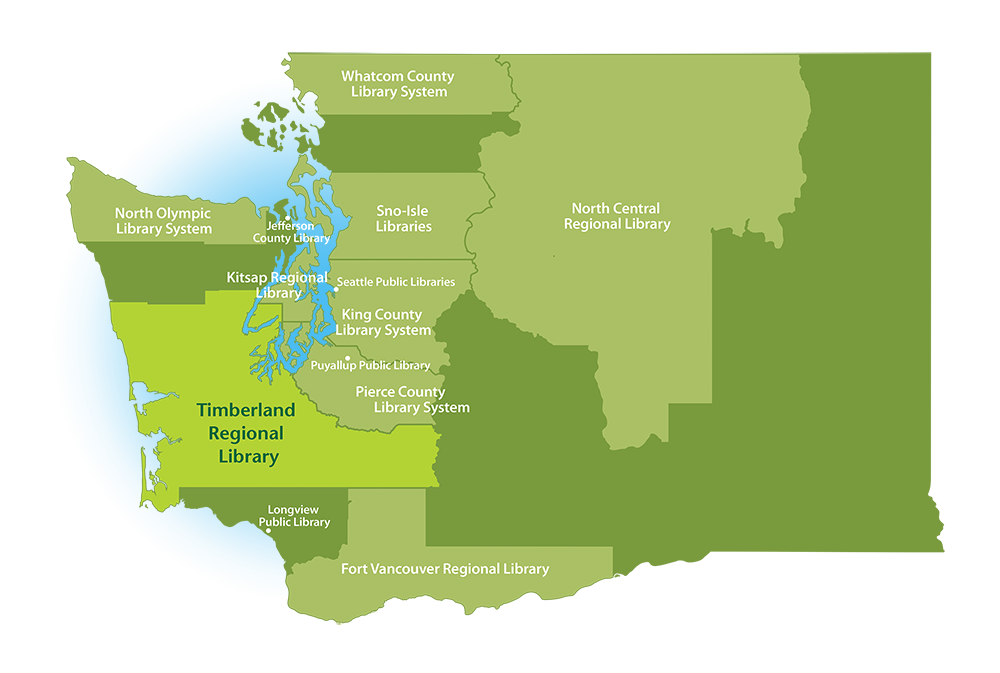 TRL has reciprocal borrowing agreements with the following library systems: 
Fort Vancouver Library System (Clark, Klickitat, Skamania Counties, the City of Woodland, and Yale Precinct in Cowlitz County)
Jefferson County Library
King County Library System (Hunts Point, Yarrow Point not eligible)
Kitsap Regional Library (Kitsap County)
Longview Public Library (Must show your Longview Public Library card to get a TRL card; must show your TRL card to get a Longview card)
North Central Regional Library (Okanogan, Chelan, Douglas, Ferry, Grant Counties) (Conconcully, Hartline, Marlin, Nespelem, Rock Island not eligible.)
North Olympic Library System (Clallam County)
Pierce County Library (Carbonado, Fircrest, Ruston not eligible)
Puyallup Public Library
Seattle Public Library (Must show your Seattle Public Library card to get a TRL card; must show your TRL card to get a Seattle card)
Sno-Isle Regional Library (Snohomish, Island Counties) (Woodway not eligible)
Upper Skagit Library District
Whatcom County Library
Cooperative Service Area:
An alternative to reciprocal agreements, the cooperative service area includes those areas in Washington State, outside of the TRL Service area, that have tax-supported public library service. As with areas covered by a reciprocal agreement, you will need to apply at a Timberland Regional Library and provide ID and address verification showing that you qualify.