Services Provided:
Full browsing, Computer access by reservation (60 min limit), Walk-up computer access (15 and 60 min limit), Self-Checkout, Self-service copy/scan/fax
Fully vaccinated patrons (12 and older) can enter without a mask.
Masks are required for unvaccinated patrons (5 and older). Children ages 2-4 are strongly encouraged to wear a mask.
---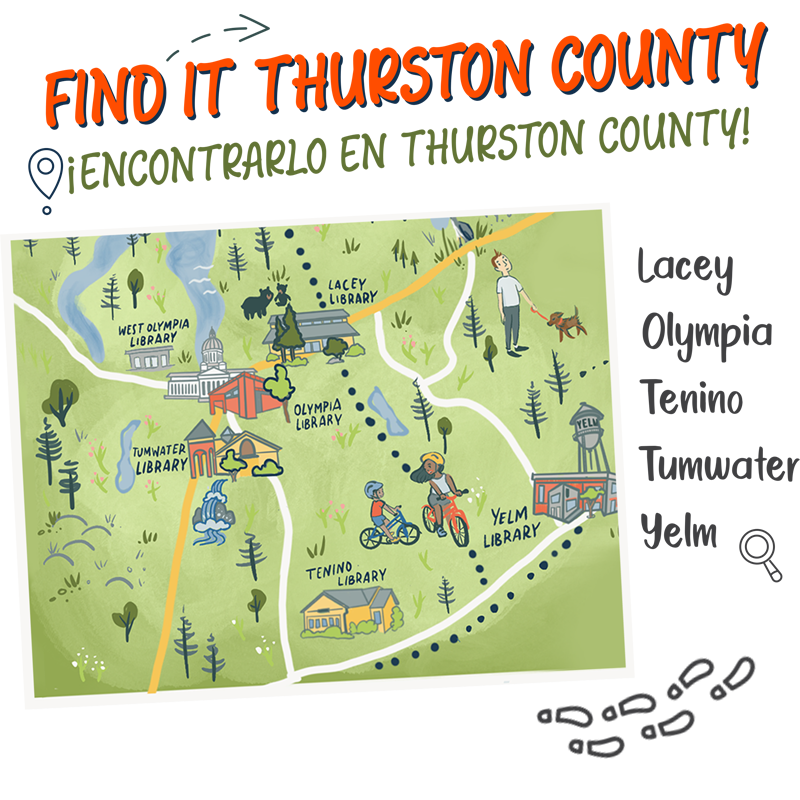 Go outside and explore Thurston County this August!
In this month-long collaborative scavenger hunt, you're encouraged to visit Thurston County libraries, parks, and other community spaces and identify items on a passport. You can pick up your passport at any Thurston County library, or download it here. Visit any Thurston County Library to show us your passport and get a small prize.
About the Library:
In November 2013 the City of Olympia installed 33 solar panels on the Olympia Library rooftop.  See more information about the solar panels including real time usage data.
In December of 1896, the Women's Club of Olympia established a library service with "reading matter" donated by citizens. In March 1909, the city offered to take over the collection of some 900 volumes and maintain a public library.
The Olympia library was housed in a Carnegie building at 7th and Franklin until 1978 when a new library was built and opened at 8th and Franklin.  Olympia joined the Timberland library district in 1968.
The library underwent extensive remodels in 2000 and 2008.  In 2000, the building was recarpeted and painted; a meeting room was converted to additional space for the children's area; and new public computers, computer stations, a teen area and shelving for about 10,000 additional items were added.  In 2008, the circulation and information desks were replaced, the building was recarpeted and painted in bright, warm colors, the lounge furniture was replaced, and the computer stations were refurbished. 
2019 Olympia Library Refresh:
After closing for two months during the winter of 2019, Olympia Timberland Library re-opened to the public in February 2020.
This renovation closure was the result of library space planning that had been in process for a few years. Timberland staff and management reviewed the physical layout of the city-owned building and identified changes that could be accomplished to better serve library patrons, while making sure all public space is ADA accessible.
Click HERE to view before & after images or wach the video below.
Building:
Status: Annexed city, city-owned building
Square Footage: 19,606