Important notice for patrons: don't call 1-800-562-6022 'Ask a Librarian.' On March 23, 2022, Timberland Regional Library officially retired our former 1-800 Number, located on the back of the dark green library cards and other materials, including brochures, handouts, and news releases. On September 15, 2022, we were notified that the number (1-800-562-6022) is now operated by another entity that has attempted to obtain the caller's credit card information. To read more information, Click here.
Visit Your Library
Browsing
Holds pickup
Access Wi-Fi
Checkout an iPad for in-library use
24/7 Returns
Make Payments at Self-checkout*
Grab Bags
Pre-assembled, themed grab bags of books, movies, and music are available. Customized grab bags are available to order.
Ask a Librarian
Send your questions to Ask a Librarian or Livechat with us by clicking on the icon on the bottom right hand side this webpage. LiveChat is available: Monday-Saturday 9 AM – 5 PM
Print/Copy/Scan/Fax
Our color copier can print, copy, scan, and fax.
To print, log into a public computer with your library card. Make a reservation or walk up to an available computer.
Meeting Rooms
Many Timberland libraries have one or more meeting rooms that may be reserved by individuals and groups.
Full policy and procedures on meeting room use.
Mobile Apps
Connect with Timberland Regional Library on your favorite smart device.
 
Remote Printing
Upload your document to the library. Stop by a print release station to print your file.
 
*Payments by check may be mailed to C/O Finance, 415 Tumwater Blvd SW, Tumwater, WA 98501
---
Location Information
See the library list below for library hours and services. Call your local library for the most up-to-date information regarding hours and services. We are experiencing a higher than usual call volume. If you get a busy signal please try again. Return your materials to any of our 29 locations, additional book returns are available in Thurston County, Fire District 3, Station 35, West Olympia Haggen's NW Fresh, and Rainier City Hall. Lewis County offers two kiosks, Morton and Toldeo.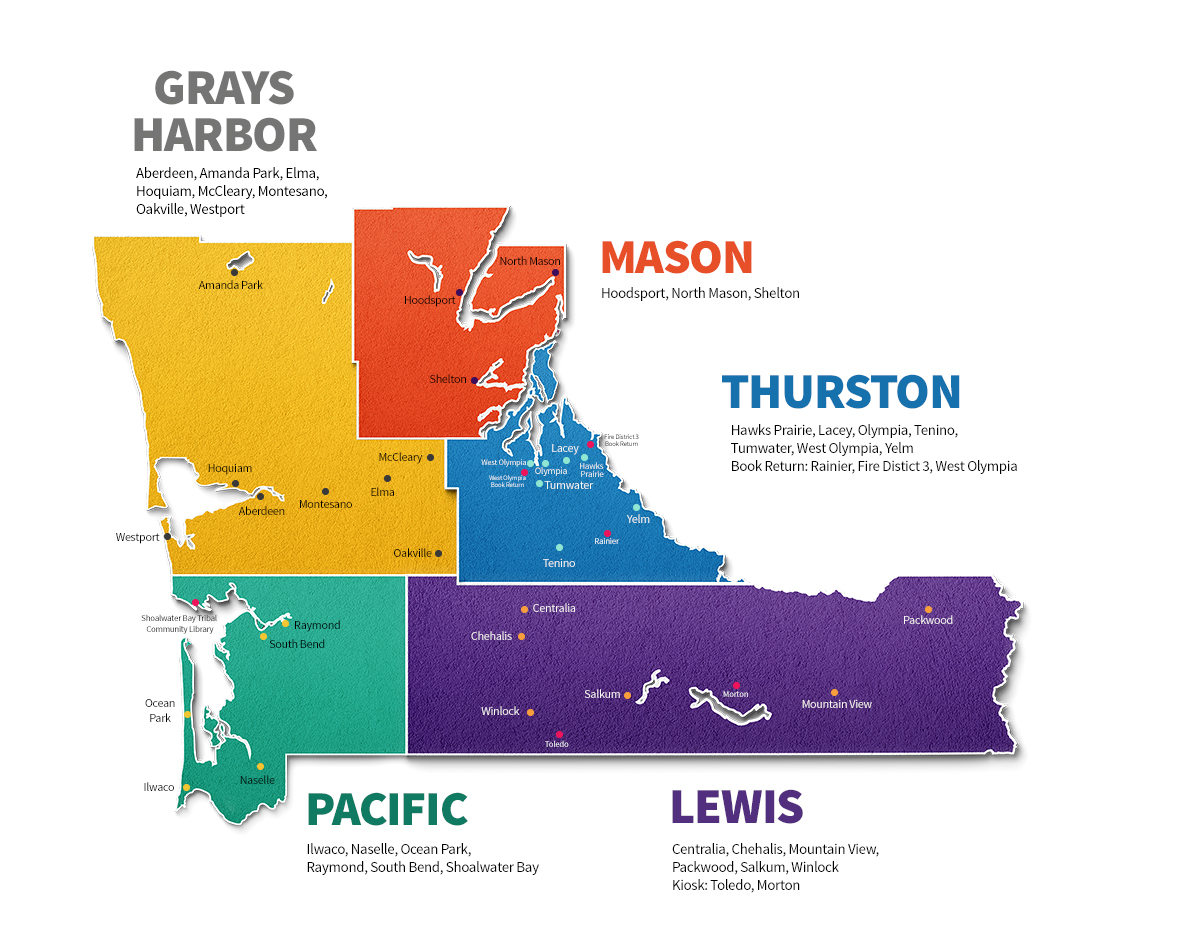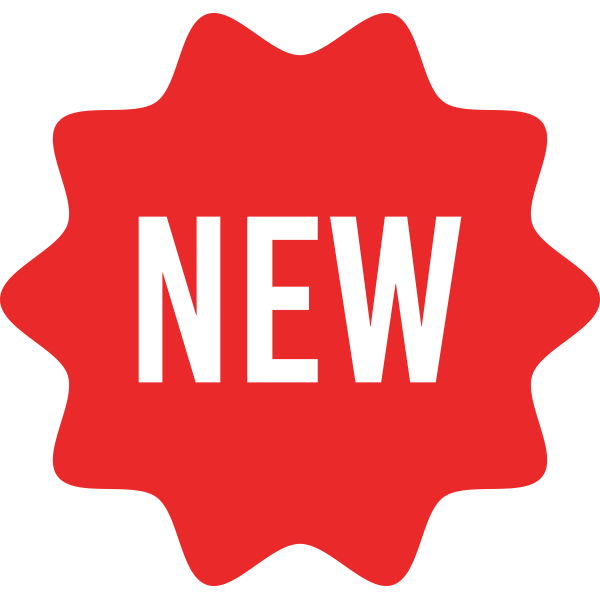 Anywhere Library is Timberland's mobile services branch. Anywhere brings the library directly to our communities - Anywhere!
Grays Harbor County
---
Aberdeen Timberland Library (Map It)
Schedule: Monday - Saturday
Hours: TAKEOUT SERVICES ONLY on Mondays beginning April 24.
10 am to 6 pm
Call: 360-533-2360
Amanda Park Timberland Library (Map It)
Schedule: Tuesday - Thursday, and Saturday 
Hours:
10 am to 5 pm
Call: 360-288-2725
Hoquiam Timberland Library (Map It)
Schedule: Tuesday - Saturday
Hours:  9 am to 6 pm 
Call: 360-532-1710
Elma Timberland Library (Map It)
Schedule: Tuesday - Saturday 
Hours:
Tue, Wed: 10 am to 6 pm
Thu - Sat: 9 am to 5 pm
Call: 360-482-3737
McCleary Timberland Library (Map It)
Schedule: Tuesday - Thursday and Saturday
Hours:
Tue, Wed: 10 am to 5 pm
Thu: 11 am to 7 pm
Sat: 10 am to 4 pm
Call: 360-495-3368
Montesano Timberland Library (Map It)
Schedule: Tuesday - Saturday
Hours:
Tue - Thu: 9 am to 6 pm
Fri, Sat: 10 am to 5 pm
Call: 360-249-4211
Oakville Timberland Library (Map It)
Schedule: Tuesday, Wednesday, Friday, Saturday
Hours:
Tue: 11 am to 6 pm
Wed, Fri, Sat: 10 am to 5 pm
Call: 360-273-5305
Westport Timberland Library (Map It)
Schedule: Tuesday - Saturday
Hours:
9 am to 4 pm 
Call: 360-268-0521
Lewis County 
---
Centralia Timberland Library (Map It)
Schedule: Monday - Saturday
Hours:
Mon-Sat: 10 am to 6 pm
Call: 360-736-0183
Chehalis Timberland Library (Map It) 
Schedule: Tuesday - Saturday 
Hours:
Tue - Sat: 10 am to 6 pm
Call: 360-748-3301
Mountain View Timberland Library (Map It)
Schedule: Tuesday - Thursday and Saturday 
Hours:
Tue: 10 am to 5 pm
Wed: 10 am to 6 pm
Thu, Sat: 10 am to 5 pm
Call: 360-497-2665
Packwood Timberland Library (Map It)
Schedule: Tuesday, Wednesday, Friday, and Saturday 
Hours: Closed Saturday, May 27
Tue: 10 am to 6 pm
Wed, Fri: 10 am to 5 pm
Sat: 9 am to 5 pm
Call: 360-494-5111
Salkum Timberland Library (Map It)
Schedule: Tuesday - Saturday
Hours:
Tue: 10 am to 5 pm
Wed, Thu: 12 pm to 7 pm
Fri, Sat: 10 am to 5 pm
Call: 360-539-3328
Winlock Timberland Library (Map It)
Schedule: Tuesday - Saturday
Hours:
Tue - Thu: 10 am to 6 pm
Fri, Sat: 10 am to 5 pm
Call: 360-785-3461
Mason County 
---
Hoodsport Timberland Library (Map It)
Schedule: Tuesday, Wednesday, Friday, and Saturday
Hours:
Tue, Wed: 10 am to 5 pm
Fri: 10 am to 6 pm
Sat: 10 am to 5 pm
Call: 360-877-9339
North Mason Timberland Library (Map It)
Schedule: Tuesday - Saturday
Hours:
Tue, Wed: 9 am to 6 pm 
Thu, Fri: 10 am to 7 pm
Sat: 10 am to 5 pm
Call: 360-275-3232
Shelton Timberland Library (Map It)
Schedule: Daily
Hours:
Monday – Saturday
9 am to 6 pm
Sunday
10 am – 4 pm
Call: 360-426-1362
Pacific County 
---
Ilwaco Timberland Library (Map It)
Schedule: Tuesday - Saturday
Hours: CLOSED temporarily for remodeling from April 1 to June 1.
Call: 360-642-3908
Naselle Timberland Library (Map It)
Schedule: Monday, Wednesday, and Friday
Hours: 10 am to 6 pm
Call: 360-539-3327
Ocean Park Timberland Library (Map It)
Schedule: Tuesday - Saturday
Hours:
Tue - Thu: 10 am to 6 pm
Fri, Sat: 9 am to 5 pm
Call: 360-665-4184
Raymond Timberland Library (Map It)
Schedule: Tuesday - Saturday
Hours:
Tue - Fri: 10 am to 6 pm
Sat: 10 am to 5 pm
Call: 360-942-2408
South Bend Timberland Library (Map It)
Schedule: Monday, Tuesday, Thursday, and Friday
Hours:
10 am to 5 pm
Call: 360-875-5532
Thurston County 
---
Hawks Prairie Timberland Library (Map It)
Schedule: Tuesday - Sunday
Hours: 10 am to 6 pm
Call: 360-252-9658
Lacey Timberland Library (Map It)
Schedule: Monday - Saturday
Hours: 10 am to 6 pm
Call: 360-491-3860
 
Olympia Timberland Library (Map It)
Schedule: Monday - Saturday
Hours: 10 am to 6 pm
Call: 360-352-0595
Tenino Timberland Library (Map It)
Schedule: Tuesday - Saturday
Hours:
10 am to 5 pm
Call: 360-539-3329
Tumwater Timberland Library (Map It)
Schedule: Monday - Saturday
Hours: 9 am to 6 pm
Call: 360-943-7790
West Olympia Timberland Library (Map It)
Schedule: Monday - Sunday
Hours:
10 am to 6 pm
Outdoor Return Hours: 24/7 (at the General Entrance near Total Wine)
Indoor Returns Hours: During library hours
Call: 360-764-4440
Yelm Timberland Library (Map It)
Schedule: Tuesday - Saturday
Hours:
Tue, Wed: 10 am to 7 pm
Thu, Fri: 9 am to 6 pm
Sat: 9 am to 5 pm
Call: 360-539-3330