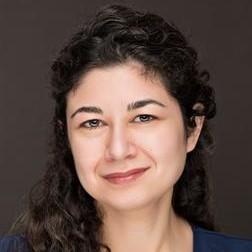 Bettina A.
Hello, Life Hackers!
Those of you familiar with life hacks may have discovered that there are advantages to having books on a topic, but that e-resources can have their perks! We have both.
If you're not familiar with life hacks, they're a treasure trove of tips, advice, secrets, and little things you can do to make your life better.
I think this title sums it up well:
The Little Book of Life Hacks: How to Make your Life Happier, Healthier, and More Beautiful
by Yumi Sakugawa.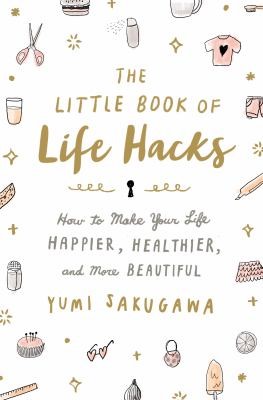 What I liked:
This book is beautiful and adorable. Fun and versatile topics. Cool ways to wear a scarf, using fresh herbs in home cooking, and tips for decoding body language. Cute graphics!
Not too sure about: Making lipsticks from crayons. But the book, overall, has some nice tips and is visually interesting.
For an introduction to life hacks, check out
Life Hacks
by Keith Bradford.
What I liked:
Life hack on putting change in a vending machine. Put the smaller amount first, so if it loses your money, you've lost less money. The tips are short and sweet.
Not too sure about: Some of the tips aren't something I'd want to try. Like everything, take with a grain of salt!
For those of you who are eBook adventurers, here's: 
The Urban Monk: Eastern Wisdom and Modern Hacks to Stop Time and Find Success, Happiness, and Peace
by Pedram Shojai.
What I like:
It opens with a good explanation of how stress works, and good advice on curating the information that you see each day, rather than ignoring or drowning in it.
Not sure about: How long I'll wait before putting it on hold for myself, because I want to dive into it pretty darned soon!
And, for something with a little more "swagger," here's: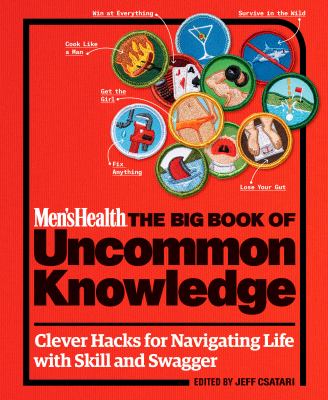 The Big Book of Uncommon Knowledge: Clever Hacks for Navigating Life with Skill and Swagger
brought to you by the folks at Men's Health.
What I liked: It's eye-catching, and there are tips on cracking an egg (the fancy way!), sliding a beer down the bar, and keeping away mosquitos.
Not too sure about: Some of the tips can run the risk of being silly or risqué.
Life hacks are, ultimately, about improving your life. And library workers, of course, are happy to be one of your favorite life hacks…
Written by Bettina.