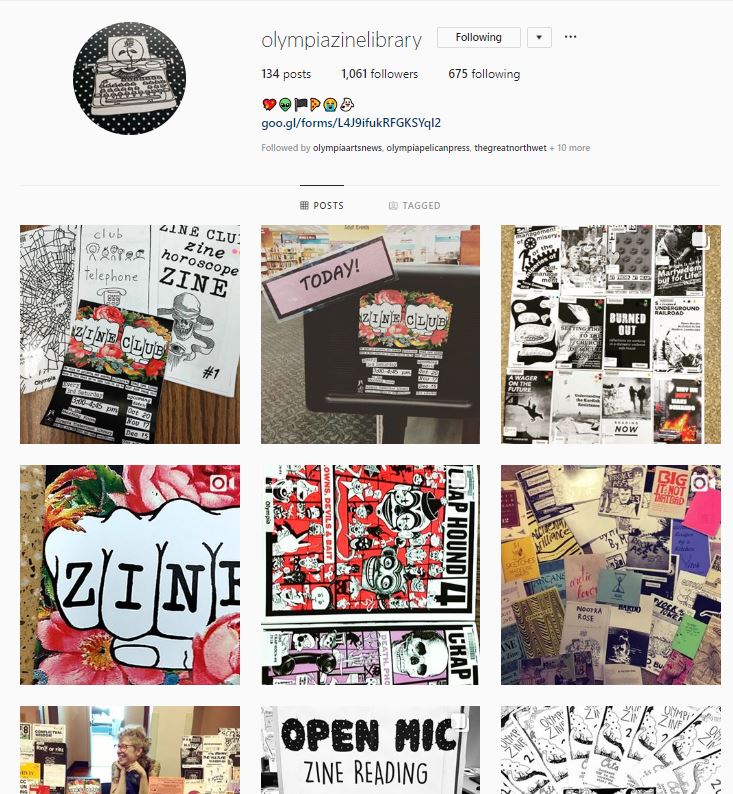 What's a zine?
Zines (pronounced "zeen," like "bean") are self-published - often via photocopier - magazines with limited print runs. They can be on any topic or many, are usually written by one person or a few individuals, and typically provide an individualistic or alternative point of view. Timberland library collects zines in over 40 subject areas of general interest to the readers in our communities, with an emphasis on local zines.
Zines are the purest form of counterculture expression that exists in printed form, and insightful indicators of current times. They represent the under-represented and give voice to marginalized members of society. Zines are interesting and cheap, and as a public library, it is our job to provide access to all types of information.
Where is the zine collection?
The Olympia Timberland Library has a collection of over 2,500 zines and the Lacey Timberland Library also has a small collection of 400+ zines.
You can search for zines in the catalog and request them to be sent to any Timberland library for you to check out.
How do I find zines in the library catalog?
You can search the catalog by author (ex: Wrekk, Alex), by title (ex: Funwater Awesome), or by subject (ex: feminist zines). To see a list of all zine subjects including books about zines, do a search for the word zines and click View All under Subjects on the left side of the results page.
Do you want my zine?
We appreciate donations, especially zines written by our library users! Zines added to the collection need to be in good condition and fit within Timberland's broader Collection Guidelines. We also have a zine swap box at the Olympia Timberland Library where anyone can take a zine or leave a zine.
Check out this video 
"how to make a zine" by nicki sabalu - just click HERE
Questions? Comments?
We'd love to hear from you!  Email us at zines@trl.org